Shockwave Lithotripsy for Kidney Stones
Shockwave lithotripsy is a common treatment for kidney stones. Healthcare professionals call this procedure extracorporeal shockwave lithotripsy (ESWL). Shockwave lithotripsy uses high-energy shock (pressure) waves to break up stones and tiny pieces of kidney stones then will move through the urinary tract more easily.
Shock wave lithotripsy may help reduce your symptoms such as pain and allow you to pass the kidney stones on your own. It may help you avoid more invasive surgery to remove kidney stones.
Product Feature
Support adjusting for energy level and strike times based on real needs
Compatible with numerous treatment transmitter heads to fit different parts of body
Economical and practical
High power : 200W
High current : 3A Max
Frequency : 50Hz / 60Hz
Easy changeable of gears
Quick and easy replacement of different transmitters
Easy to use and comfortable use
Flexibility of holding the handpiece cable facilitates treatments
Very simple maintenance method
Durable and portable
What Happens During Shockwave Lithotripsy?
Shockwave therapy generates high-energy, which are focused on the targeted stone. These shockwaves travel through the body and converge at the stone, causing it to fragment into smaller, sand-like pieces.
The patient may experience a sensation of intense tapping or pounding during this process, but anaesthesia or sedation is often used to minimize discomfort if needed.
Once the stone is sufficiently broken down, the patient can pass the smaller stone fragments naturally through their urine over the following days or weeks.
How Shockwave Lithotripsy Cure the Kidney Stones
Shockwave lithotripsy treats kidney stones by following steps :
Fragmentation : Breaking kidney stones into smaller pieces.
Focused shockwaves : Using high-energy shockwaves targeted at the stone.
Reduction in size : Reducing stones into tiny fragments.
Natural elimination : Allowing the body to pass fragments through urine.
Follow-up : Monitoring to ensure complete stone elimination.
Is Shockwave Lithotripsy Painful?
Shockwave lithotripsy can be uncomfortable, but it is not typically considered painful. Patients may feel a sensation of intense tapping or pounding as the shockwaves target and break down the kidney stone.
After the procedure, some discomfort or mild pain may be experienced as the body passes the stone fragments in the days or weeks following shockwave lithotripsy.
Kidney stones can cause various symptoms, including :
Severe and sudden pain
This is often described as one of the most significant symptoms, with pain radiating from the back or side to the lower abdomen and groin.
Frequent urination
People with kidney stones may feel the need to urinate more often than usual.
Haematuria
Blood in the urine can be present, giving it a pink, red, or brown colour.
Nausea and vomiting
Some individuals may experience nausea and vomiting due to the intense pain.
Painful urination
Discomfort or pain during urination is common.
Shockwave therapy can be used for various conditions, including:
Musculoskeletal pain : Tendinitis, bursitis, and muscle strains.
Plantar fasciitis : Alleviating heel pain.
Calcific shoulder tendinopathy : Breaking down calcified shoulder deposits.
Erectile dysfunction (ED) : Improving blood flow for ED treatment.
Chronic pelvic pain syndrome : Providing relief for prostatitis and pelvic pain.
Cellulite reduction : A cosmetic treatment to reduce cellulite.
Stress fractures : Promoting bone remodelling for healing.
Myofascial pain syndrome : Treating trigger points and muscle pain.
Treatment Area's :
How Does This Shockwave Machine Works :
Shockwave therapy devices create high-pressure acoustic waves, typically through pneumatic methods.
The shockwaves cause mechanical stresses to the tissues in the treatment area. This mechanical force can stimulate various cellular responses, including increased blood flow, the release of growth factors, and the activation of the body's natural healing processes.
Treatment typically involves multiple sessions over a period of weeks. The number and frequency of sessions depend on the specific condition and the patient's response to therapy.
Product Benefits
Non-Invasive Treatment : Provides a non-surgical and non-invasive treatment
Pain Relief : Helps alleviate pain and discomfort associated with musculoskeletal disorders, chronic pain, and injuries.
Improved Blood Flow : Enhances blood circulation, which can promote healing and tissue regeneration.
Tissue Repair : Stimulates the growth of new blood vessels and tissue, aiding in recovery.
Faster Healing : Can accelerate the body's natural healing processes.
Versatile Application : Useful for treating a wide range of conditions, including orthopaedic, urological, dermatological, and sports-related issues.
Product Details
Power Cord Socket
The shockwave machine is equipped with a power cord socket for connection to a power outlet, with the other end securely plugged into the wall socket for power supply.
Out Handle Socket
The front of the shockwave machine features a socket for connecting the hand handle cable, allowing for the power connection of the handpiece to the machine.
Power- ON Socket
The power-on button is located at the beside of power cord socket of the shockwave machine, and it should be activated after connecting the power socket for proper operation.
Display Screen
The shockwave machine is equipped with an HD touchscreen display on which users can access and configure various system and function settings.
Hand Handle
The shockwave handpiece handle is equipped with a green button that activates the handpiece for treatment purposes.
How To Use The Device :
First, insert the connector of handpiece into the host power outlet which is located in the front of the host.
Second, connect the power cord into host power port at behind of the host and then insert the plug another end of the power socket.
Next turn on the power switch.
Lastly, select the corresponding functional mode in the system.
Example of Display Screen :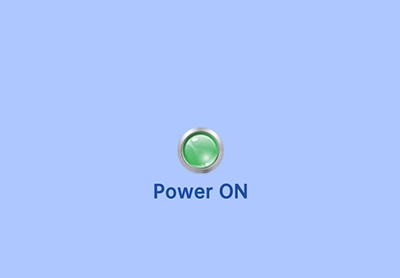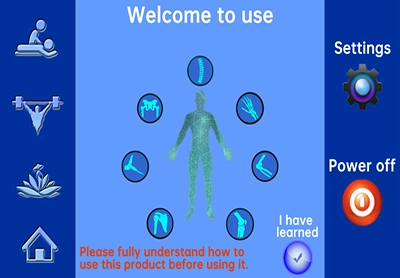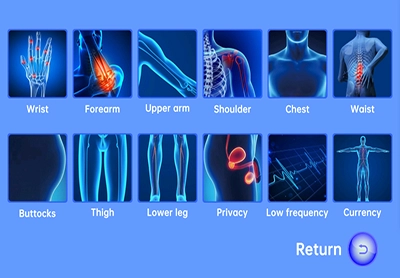 Specification
| | | | |
| --- | --- | --- | --- |
| Host colour | White | Power | 200W |
| Rated voltage | AC110V / AV220V | Frequency | 50Hz / 60Hz |
| Current | 3A Max | Gears | 5 |
| Transmitter heads | 7 | Energy level | 5 – 250mj |
| Device size | 365 x 370 x 170mm | Weight | 5 kg |
Application
Shockwave Lithotripsy Not Recommended to Treat Kidney Stones if You Have :
Hard stones : Kidney stones made up of certain substances (like cystine or certain types of calcium stones) may be more difficult to break up with shockwave lithotripsy.
Pregnancy : People who are or could be pregnant should not have lithotripsy because it may harm a foetus.
Infected kidney stone : An infected kidney stone that is stuck in the ureter and causing fevers or chills is a medical emergency and should not be treated with shockwave lithotripsy.
Special medical needs : Shockwave lithotripsy should not be used in medical conditions that result in increased risk of bleeding, such as use of blood thinners, due to increased risk of severe bleeding from the kidney.
Very large kidney stones : Shockwave lithotripsy works best on small kidney stones.
Precaution / Caution
If you feel uncomfortable, please stop using it immediately.

Stay in correct posture, especially sitting and sleeping position.
Do not use massager if there are the following conditions :
Tumours, lung tissue, major blood vessels / nerves or infection in the treatment area
Epiphyseal plate, brain or spine in the treatment area
Coagulopathy including thrombosis
Applying immunosuppressive
Joint fluid seepage or joint replacements
Cognitive / mental disorder or poor sensory function
Pacemakers or other implanted devices
Pregnancy
Open wounds
Package List
1 x Host
1 x Handpiece with cable
1 x Power cord
7 x Transmitter heads
3 x Soft tip heads
5 x Silicon rubber cases
Others: The tools for maintenance of the handpiece
ED Treatment Silicone Head
ED Treatment Silicone Head
ED Treatment Silicone Head
ED Treatment Flat
Transmitter Head
15mm Concave
Transmitter Head
15mm Convex
Transmitter Head
20mm Concave
Transmitter Head
ED Treatment Single
Point Transmitter
Head